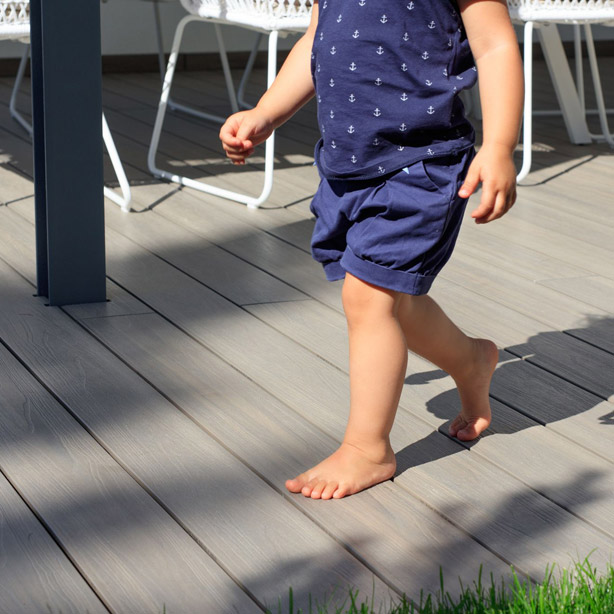 New Tech Wood
Composite Decking
New Tech Wood Ultrashield composite decking combines the proven strength of high density polyethylene plastic and wood fibres with an outer shell of polymer that completely encapsulates the board in an impermeable layer of protection from scratches, stains and fading.
New Tech Wood began a project to design and formulate the most durable, most attractive, most fade and scratch resistent, most beautiful and most reliable composite deck board in the industry. Ultrasheild, with its advanced premium shield which caps the entire board offers a product of unmatched performance and beauty.
The core is made from carefully selected and 100% recycled material, including hard and soft wood fibres as well as high density polyethylene plastic for greater strength and durability.
Telephone 01625 434043
Call Maple Plastics Now - Telephone: 01625 568337
New Tech Wood
Introducing Ultrashield Naturale Composite Decking
An introduction into our New Tech Wood Ultrashield Naturale Composite Decking Product line. It shows the technology, the inspiration and the beauty of all our products. Sit back and enjoy! UltraShield's exclusive colours & patterns give you endless possibilities. The latest Naturale™ line features a unique treatment on the shield to make it the most natural feeling capped wood plastic composite EVER.
Download New Tech Wood Decking Brochure

New Tech Wood
Decking Installation Video – Installing Your Deck
Installation guide shows all steps from start to finish , including – measuring, accessory usage, first deck board installation, last deck board installation + fascia finishing.
It shows how easy New Tech Wood Ultrashield Naturale is to be installed.
Download New Tech Wood Decking Installation Guide

Colours Available
Sample packs are available if required.
These boards are available in the following colours & dimensions:
Antique Grey
Silver Grey
Ebony
Oak
Teak
Charcoal
Light Grey
4880mm (L) x 138mm (W) x 22mm (D)
Each board requires approximately 13 deck clips & screws
25 year limited warranty
Decking Accessories – Clip System
New Tech Wood has locking systems which feature two clips, one locks and secures the board down (Locking Clip) and the other allows for expansion and contraction (Controlled Expansion & Contraction – CEC Clip), so that you don't experience warping or distortion of any kind after installation. The system works because it allows the user to control the direction in which the expansion and contraction will take place.
TC-2 Composite Deck Fixing Clip and Screw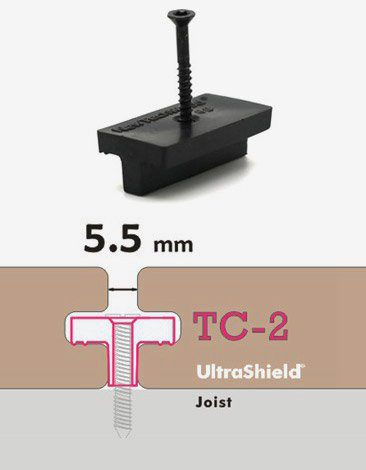 Please note that one clip should be used at every joist (approx 400mm). 12 clips required for 4880mm ( 1 x metal locking clip also required)
TC-10 Metal Locking Clip & Screw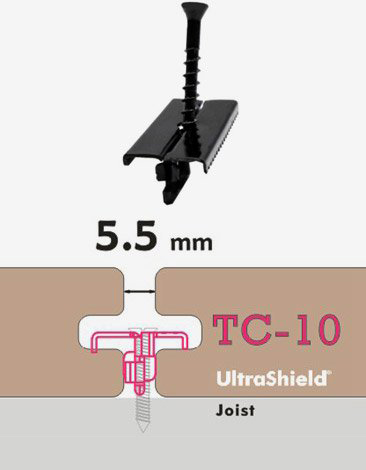 Black metal TC-10 locking clip with black coated phillips headed screw.  Used in conjunction with the New Tech Wood Ultrashield deck board.
MG-1 mini-clip with black coated screw.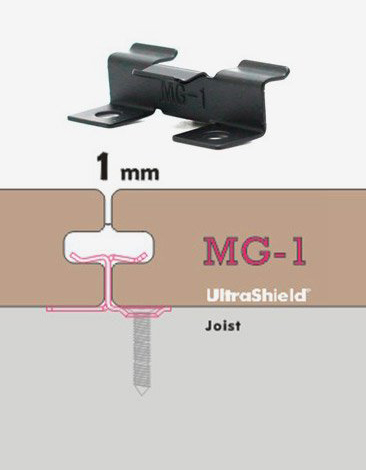 Stainless steel MG-1 mini-clip with black coated phillips headed screw. Provides a 1mm gap between boards.
MG-2 mini-clip locking clip with screw.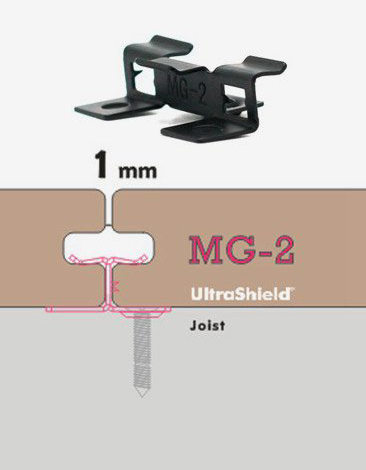 Stainless steel MG-2 mini-clip locking clip with black coated phillips headed screw. Provides a 1mm gap between boards.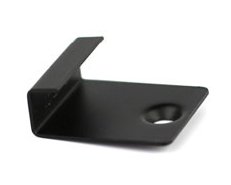 Composite Decking Starting Clip
Starting the first board is a breeze with the MG-3 starting clip. With these starting clips the clip with be completely invisible to the eye while remaining extremely quick and easy to install.
The Starting Clip is designed for decking boards with a groove height of 8.0 to 8.5mm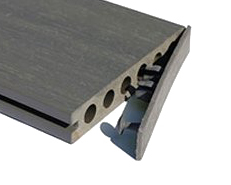 Composite Decking End Cap
End caps are an easy way to keep a clean finish on ends of the circle hollow deck boards if a fascia board does not need to be fixed.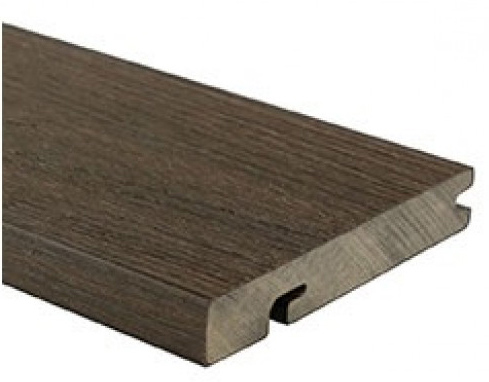 New Tech Wood Ultrashield Composite Bullnose
The bullnose board is a solid board, used to finish the edges of your decking along with creating perfect steps. Used in conjuction with the TC-5 starter clip the boards hide the grooved edges on the Ultrashield deck board and give you a smooth, clean finish.
Colours Available:  Antique. Light Grey, Teak, Charcoal, Ebony, Silver Grey
Dimensions: 2800mm x 138mm x 23mm